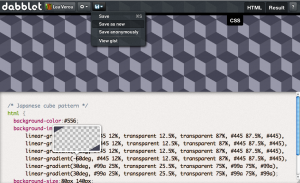 I loved JSFiddle ever since I first used it. Being able to test something almost instantly and without littering my hard drive opened new possibilities for me. I use it daily for experiments, browser bug testcases, code snippet storage, code sharing and many other things. However, there were always a few things that bugged me:
JSFiddle is very JS oriented, as you can tell even from the name itself
JSFiddle is heavily server-side so there's always at least the lag of an HTTP request every time you make an action. It makes sense not to run JS on every keystroke (JSBin does it and it's super annoying, even caused me to fall in an infinite loop once) but CSS and HTML could be updated without any such problems.
I'm a huge tabs fan, I hate spaces for indenting with a passion.
Every time I want to test a considerable amount of CSS3, I need to include -prefix-free as a resource and I can't save that preference or any other (like "No library").
Don't get me wrong, I LOVE JSFiddle. It was a pioneer and it paved the way for all similar apps. It's great for JavaScript experiments. But for pure CSS/HTML experiments, we can do better.
The thought of making some interactive playground for CSS experiments was lingering in my mind for quite a while, but never attempted to start it as I knew it would be a lot of fascinating work and I wouldn't be able to focus on anything else throughout. While I was writing
my 24ways article
, I wanted to include lots of CSS demos and I wanted the code to be editable and in some cases on top of the result to save space. JSFiddle's embedding didn't do that, so I decided to make something simple, just for that article. It quickly evolved to something much bigger, and yes I was right, it was lots of fascinating work and I wasn't able to focus on anything else throughout. I even delayed my 24ways article for the whole time I was developing it, and I'm grateful that Drew was so patient. After 3 weeks of working on it, I present
dabblet
.